The Churchville Recreation Building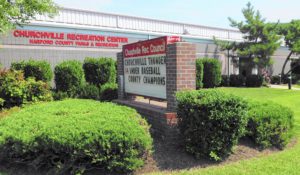 Apparatus Listing for Invitational meets in our Gym
Vault: AAI Standard Vault Table; Several Stratum Boards, One Wide Safety Zone, and one new "Narrow" safety zone mat, One "X" mat, and one blue "Hands down" mat,  8″ X 6′ X 12′ skill cushions, 4″ throw mats 4′ X 6′ and 6′ X 12′ sting mats. New carpet bonded runway 3/4″.

---
Uneven Bars: We use two unevens for meets. One AAI Elite set and one (goes even wider) AAI superwide set.  Mats and spring boards as listed above.
---
Balance Beam: Two AAI Reflex beams are used for competitions, at least one adjustable. Mats and springboards as listed above.
---
Floor Exercise: New 42′ X 42′  "Palmer" spring floor w new /AAI carpet/foam. 
---
Electronic Scoring:  New "Proscore" scoring system with large digital displays. Handscoring is also done and scores posted during competition in the lobby.
---
Audience Seating:  Bleacher seating for approximately 200.  Great viewing of competitive area for videotaping, etc.  Handicapped access to viewing area.
---
Parking: Large lot is located in front of  building and another one is located about 200 yards away.  Usually no problem, even with large meets. It doesn't cost anything to park at ACPR meets!